Gumption Gaze: Schitt's Creek
Canadian comedy Schitt's Creek is slowly taking over the American television landscape and for good reason. From a farcical premise to the most outlandish of characters, the show is a most delicious 22 minute treat.
Created as a POP! Canadian Original Television series in 2015, Schitt's Creek hails from the brain trust of Dan and Eugene Levy. The later you of course know from films such as the American Pie Franchise, not to mention the gaggle of successful Christopher Guest film's (if you have not seen Waiting for Guffman, please stop reading now and watch it. But you have to come back when you're done), the former, his comedic and sardonic son.
The Premise? An Uber wealthy family, Johnny (Eugene Levy) the stoic father, Moira (the incomparable Catherine O'Hara) the dramatic and wig obsessed mother and their two spoiled offspring, Alexis (Annie Murphy) and David (Dan Levy) lose their fortune and must relocated to a town, their only remaining asset, which was purchased as a gag gift conveniently called Schitt's Creek. to put it to you plain, the scenario is simple, brilliant, and my kinda television.
When the show debuted, it became an instant sleeper hit. I for one know that I went from person to person (whether I was acquainted or not) singing the praises of the Rose family in legit 3 part harmony. Now in it's fifth season, the show has become a juggernaut of pop culture, thanks to many a reason and many a good Meme. Let's breakdown why it's worth your gaze below shall we?
There are few shows that I can quote on the legit regular, but this one has all but replaced my current vocabulary with strictly Schitt's Creek-isms. The over the top extraness of it all is perfect fodder for the water cooler, and has already made many a moment worthy of being memed (see the most perfect of examples to your left), not to mention I nearly choked on my spaghetti squash dinner the first time Alexis (played to perfection by Annie Murphy) uttered the line, "Right, and Adam Levine and I just went for bubble tea".
If you don't get it, that's ok. You Will.
Reason 2: The Relationships
One of my favorite things about a television show that has been on for a minute is that it is allowed to spread it's wings and deepen it's characters. From our original meeting of the Rose family, they are brash city slickers incapable of leading a small town lifestyle. But through out the season's they have given us amazing pay off's with moments and glimpses at their humanity, many of those to the credit of the townspeople of Schitt's Creek like motel sassafras Stevie (Emily Hampshire), which is a fete that deserves at least 13 Emmy awards and 4 Golden Globes.
And I have to say that my favorite of the relationships we've witnessed thus far on the show is that of David and Patrick (portrayed by the precious Noah Reid). The obtusely mismatched, yet absolutely suited duo have warmed our hearts in so many ways, but none other than Patrick's overt ugly cry inducing performance of Tina Turner's The Best. Haven't seen it? No worries boo, I have the video (via TVGuide) bookmarked on my favorites page for when I need to make sure I can still feel feelings, which of course I do, but don't you fret because I've shared it below.
Many a show have used costuming to tell a story. In Schitt's Creek's case, it is used to create a continued connected through line. When speaking about this exact topic to Vulture, Dan Levy said the following about the role the Rose family fashion plays in continuing to push the narrative of the show forward.
"It's continually reminding our audience where these people came from. The juxtaposition of designer clothes against the backdrop of this town is able to tell a story."
The fashion element of the show gives the viewer a constant, yet subliminal reminder of what the show is based around.
Not only is it an important aspect of the narrative, it is also legit amazing. From McQueen, Rick Owens, Givenchy and Isabel Marant, the show enlists some truly stellar runway material. But how does one find all of these couture creations, you ask? Levy has stated that the production team has found many a forward frock from online outlets such as Ebay and the RealReal. So now I know who outbid me on that nubby John Elliott sweater I was lusting over… good to know.
reason 4: the catherine o'hara
In my humble opinion, the term Character Actress was created as an audible crown for Chatherine O'Hara. Film to film, role to role, credit to credit, Ms. O'Hara delivers. On Schitt's Creek, we see her in her juiciest role to date, former daytime television star Moira Rose. Clad (mainly) in tonal black and white, with a wig collection grand enough to make an Fire Island queen gag with jealousy, she looks like the new wave Daphne Guinness cool mom we all secretly hoped for.
One of the notable things about O'Hara's Moira is her use of affectation. A veritable playground to munch on the common word and turn it into a laugh line in and of its self. When asked (by EW.com) about said accent, she had this to say,
"I say, it's how people speak when they want to reinvent themselves over and over again!"
But my personal favorite aspect of the character is the LEWKS. The MANY MANY MANY CHIC AF LEWKS that Sis gets to play with. So with that in mind, please now allow me to give you…
the Gumption Carousel of Moira Rose LEWKS.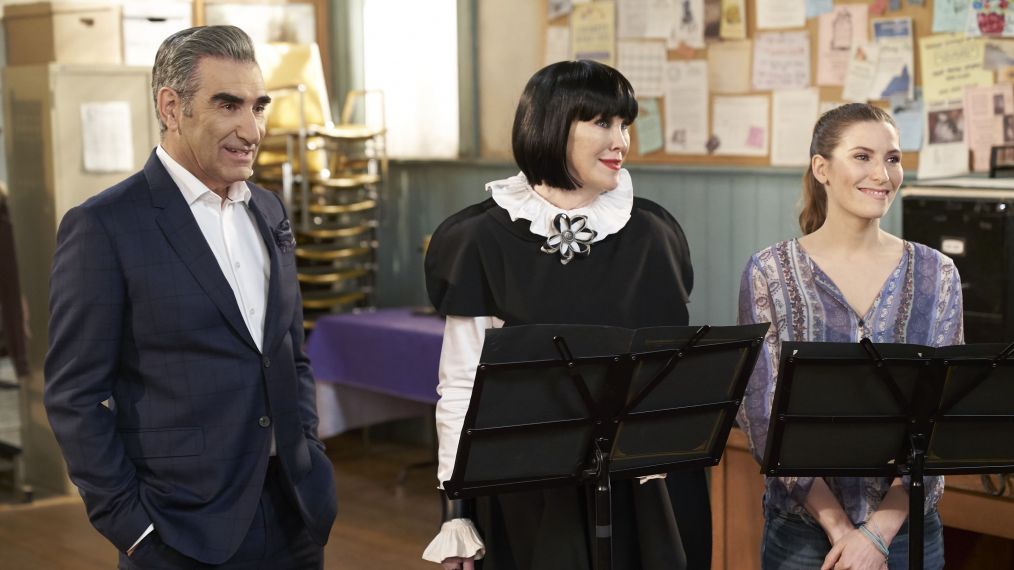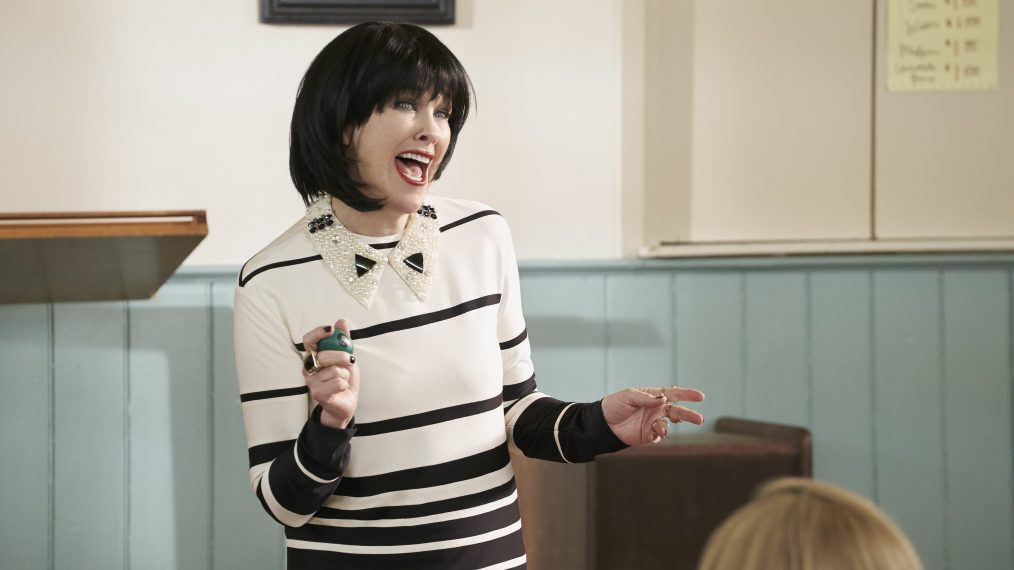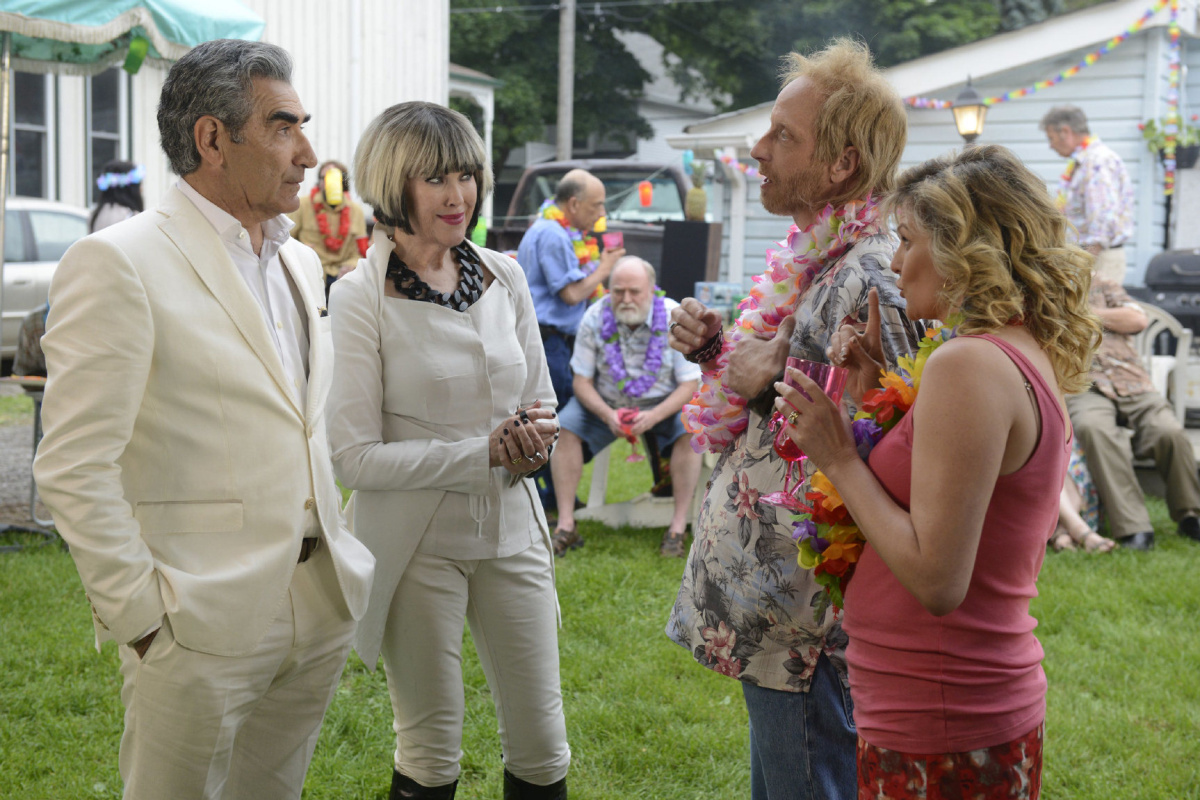 Since it's inception, the show has risen to A-List Status Appointment Television. So much in fact, they launched a national tour that yours truly is seeing this weekend in Chicago (clock the David inspired LEWK i'll be wearing just to your left from my Instagram), and he literally cannot wait to hear what the stars of the show have to say about the magic they have made so far and what is next for these eclectic bag of mixed nuts that is the cast of Schitt's Creek.
And although not all are listed or mentioned above, the entire cast of this show is LEGENDARY!!! Included Eugene Levy's daughter Sarah Levy, who plays Twila the town good girl waitress supreme and hopeless romantic.
For more information (and MERCH!) about Schitt's Creek, make sure to visit their official website.